Specialist LGBT+ support service for young people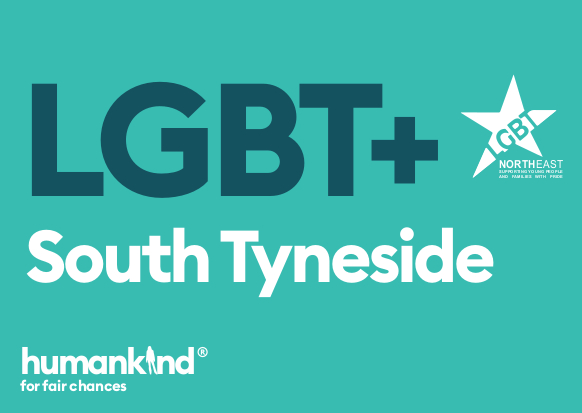 A specialist LGBT+ (Lesbian, Gay, Bisexual, Transgender or other related identities) Support Service has been launched for young people aged 11 to 25 in South Tyneside.
The new service, run by Humankind with funding from South Tyneside Clinical Commissioning Group, provides a co-produced one to one support offer, family work, peer support networks and workshops.
In addition, the service will work with core organisations operating in South Tyneside to improve LGBT+ awareness. Humankind is also working with schools to provide the partnership scheme – The Rainbow Flag Award – to promote LGBT+ inclusivity.
Monthly youth groups and support groups will run for 11-15 and 16-25 year olds.
In response to COVID-19, Humankind is looking at new and innovative ways to ensure LGBT+ young people receive the same level of care and support. Virtual provision has been introduced as well as extended dedicated telephone support.
One-to-one appointments, assessments and peer support groups can all be offered virtually via a number of agreed platforms, meaning young people will be able to speak 'face to face' to LGBT+ Senior Practitioner Leah Emerson.
Referrals can now be taken into the service, which is located at the Clervaux Exchange, Jarrow, NE32 5UP.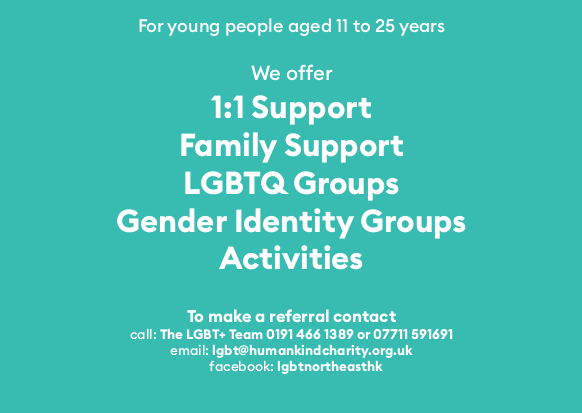 Contact details

For more information email lgbt@humankindcharity.org.uk or call (0191) 466 1389.