Don't let Covid put you off making a complaint about the NHS
During the Covid-19 pandemic we recognise that everyone's priorities have shifted, and it has been a challenging time looking after each other and it may not feel quite right to complain about NHS care and treatment.
We have been made aware that as NHS services move back to their "new normal" it is causing strain on people who have had treatment and care delayed, which may have resulted in a period of ill health or lack of support.
We are here to help with fully trained advocates who have an in-depth knowledge of what can be a daunting prospect of making an NHS complaint.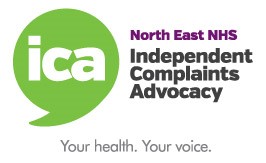 Our team has been delivering for our clients since 2005. We make it simple for you and take it at your own pace. We operate a free and confidential service in a non-judgmental way. Our advocates will liaise on your behalf, subject to your consent, with any NHS Organisation involved to assist resolving your complaint.
The service is free – why not get in touch – no matter how trivial you may think your issue/ concern or complaint is – even if it is to find out what your options are. We never record anything without your consent and have information in several different formats.
Contact us: 0808 802 3000
Email: ica@carersfederation.co.uk
Website: nenhscomplaintsadvocacy.co.uk
Facebook: facebook.com/Northeastnhsica
Advice on how to raise a complaint
The following downloadable guides explain the processes for different local services and provide the contact information you need to make a formal complaint about a local NHS, social care or mental health service or Healthwatch if you have any unresolved concerns.