As we mark Volunteers' Week, an annual national celebration of the fantastic contribution volunteers make to our communities, Healthwatch South Tyneside would like to say a huge thank you to all our volunteers for their continued hard work, commitment and support with some great work.
As we have had to change the way we engage with the patients and residents due to Covid, our volunteers have played a key role in helping us do that whilst still ensuring your voices are heard within health and social care in South Tyneside.
We could not have done this without our amazing volunteers, so thank you!
As we make our contribution to Volunteers' Week, we asked our volunteers why they liked volunteering with us, and this is what some of them told us:
"Volunteering for Healthwatch has allowed me to still feel that I can have a say in decisions that have been made for the services and choices of health and social care matters. I have found it an enjoyable interesting and challenging experience and would encourage people who are thinking about helping their community to 'give it a go'.
Joy
"I like volunteering for Healthwatch because it helps to give back something to the community I live in and feel involved in local health and wellbeing of the people it's also good to feel part of the team."
Margaret
"I love to volunteer for Healthwatch so I can make a difference and give something back to the community – no matter how big or small it might be."
Arthur
"I like to volunteer with Healthwatch because it allows me to gain experience and skills that I can use in future job applications and interviews."
James
"I like volunteering with Young Healthwatch because I get to work with my fellow volunteers to design and undertake some exciting local healthcare audit projects."
Nafizah
"I like volunteering to give something back and make sure young peoples voices are heard and it helped me get into employment."
Louis
"I have been able to use my university experience and psychological knowledge in order to propose ideas and solutions to improve healthcare services, including sexual and mental health, for young people today."
Jak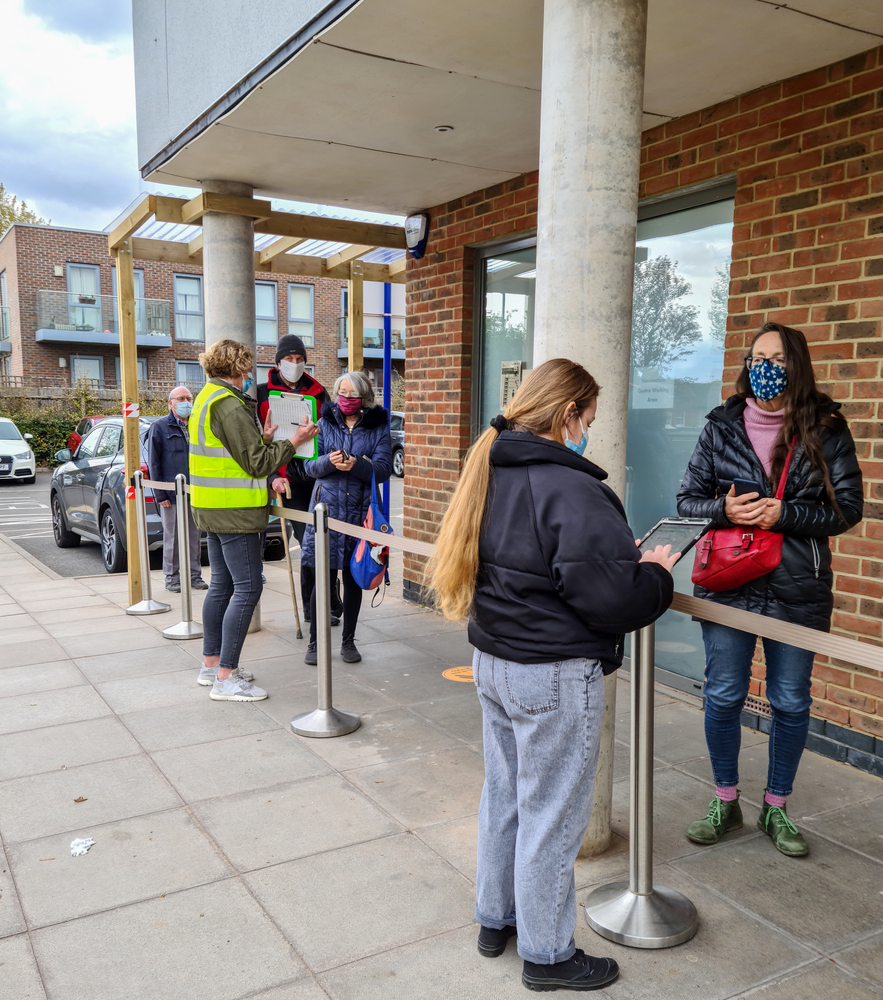 Covid-19 marshals and helpers working to help the public with their vaccination process outside a vaccination centre.
WHAT IS VOLUNTEERS' WEEK?
Volunteers Week takes place from June 1-7 every year. It's a chance to recognise the fantastic contribution volunteers make to our communities and say thank you.
Volunteers' Week is supported and celebrated by small grassroots organisations as well as larger, household-name charities, who together run hundreds of activities across the UK. These activities showcase and celebrate volunteers and the contribution volunteering makes in our communities.
Volunteers' Week 2021 is a time to say thanks. It goes without saying that volunteers have played a key role in the pandemic response. During an exceptionally difficult year, people from all walks of life around the UK have taken the time to volunteer and make a huge difference to their communities – just as they do every year. This is a time for us to come together and thank all volunteers for their invaluable contribution.
This 37th annual Volunteers' Week is taking place during the #MonthofCommunity. Running throughout June, #MonthOfCommunity brings together organisations with a range of events in order to encourage us all to think about and join in with activities happening in our local communities.
Each day follows a central theme to guide your plans for Volunteers' Week 2021.
TUESDAY 1 JUNE: VOLUNTEERS' WEEK LAUNCH – A TIME TO SAY THANKS
Join us for the first day of Volunteers' Week 2021. This year has highlighted the vital role volunteers play across the UK and we want to make sure everyone is aware that this is a week to recognise their impact, think about volunteering and plan to support volunteering in the future.
WEDNESDAY 2 JUNE: POWER OF YOUTH DAY
On 2 June, Volunteers' Week is coordinating with the #iwill movement for Power of Youth Day. Power of Youth Day is an annual celebration of the contributions children and young people make to society through volunteering and social action. This year the focus will be on the incredible efforts that young people have made during the last year – a year impacted by a global pandemic and subsequent lockdowns.
THURSDAY 3 JUNE: EMPLOYER SUPPORTED AND SKILLED VOLUNTEERING DAY
On 3 June, we want to recognise the continued contributions of skilled and employer supported volunteers by showcasing their impact around the UK.
FRIDAY 4 JUNE: HOME NATIONS' DAY
On this day, our national bodies and partners are celebrating a theme relevant to their local community. Please contact your home nation partner for more information.
ENGLAND – VOLUNTEER VOICES
This day is a chance for volunteers to talk about what they do directly – an opportunity to highlight the benefits of volunteering for both the volunteer and the people they support.
SATURDAY 5 JUNE: ENVIRONMENT AND CONSERVATION DAY
To coincide with World Environment Day, we are focusing on all the environmental volunteering that takes place every day.
SUNDAY 6 JUNE: THE BIG LUNCH
This year's Volunteers' Week festivities also include The Big Lunch. What better way to celebrate the impact volunteers have in their communities than The Big Lunch! You can join in online, on your doorstep, in a park, or over the fence (guidelines permitting). This is your chance to celebrate community connections, recognise fellow volunteers and talk to others about your experience volunteering. This weekend in June is the UK's annual get together for neighbours and communities.
MONDAY 7 JUNE: VOLUNTEERS' WEEK CLOSE – A TIME TO SAY THANKS
Let's say a huge thank you to all those incredible volunteers and celebrate volunteering in all its diversity.