People who suffer – or have suffered – from persistent musculoskeletal pain are being invited to take part in a research project by a North East university academic.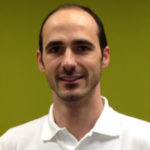 Nick Livadas, a Senior Lecturer in the School of Health and Life Sciences at Teesside University (pictured), is looking into public perceptions about the common condition as part of his PhD.
He is asking sufferers to complete a short online survey detailing their experiences. The results of the anonymous survey can be shared with local healthcare services who may consider the findings when reviewing current services for persistent musculoskeletal pain.
Further study details and contact details for further questions can be found by clicking the link here:  https://teesside.onlinesurveys.ac.uk/a-survey-of-peoples-beliefs-about-persistent-musculoskele-8