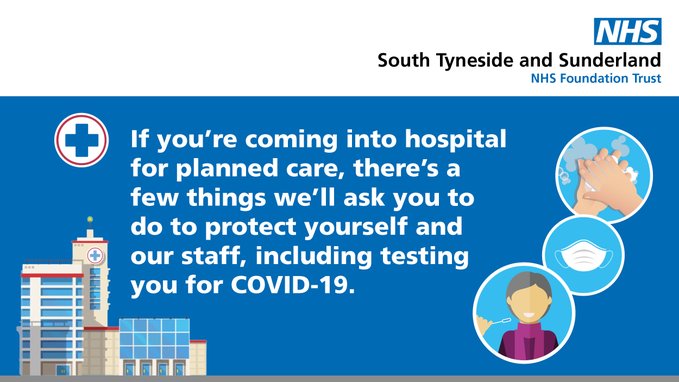 South Tyneside and Sunderland NHS Foundation Trust has announced it will soon be contacting patients to rearrange operations and tests.
But the Trust is asking patients to be aware it is having to prioritise those most urgent. No action needs to be taken by anyone awaiting an operation or test – patients will be contacted directly.
If you are asked to come for an appointment or operation, there will be number of measures in place to keep you safe during your care and treatment. Advice includes:
Do not come if you develop symptoms of Covid-19, call us and let us know so we can rearrange your planned appointment / operation.
Do not bring any friends or relatives to your planned appointment. If you are under 18 you can bring one parent or carer with you.
If you are coming in for an operation you will be asked to self-isolate for 14 days prior to your surgery and be tested for COVID-19.
Please arrive promptly for your allocated appointment time to help us facilitate social distancing within our waiting rooms.
Our staff may be wearing personal protective equipment. There is no need to be alarmed. This is to protect both you and them.
You will be asked to wear a face mask as part of our strict infection control measures. You will need to keep this on throughout your visit.
If you are currently shielding please let our staff know, so we can take extra precautions to keep you safe.
Please adhere to social distancing and keep at least 2m distance between you and other people wherever possible.
Please wash your hands with soap and water for at least 20 seconds, or use the hand sanitiser on arrival and regularly throughout your visit.
Face coverings
All patients and visitors (who are not affected by current visiting restrictions) must plan ahead and wear face coverings when they attend a hospital or community clinics.
This is in line with national guidance that face coverings could help reduce the spread of Covid-19 from those suffering from the virus but not showing symptoms.
Face coverings should cover the mouth and nose while allowing the wearer to breathe comfortably and can be as simple as a scarf or bandanna that ties behind the head to give a snug fit.