Community champion Dr Shobha Srivastava MBE has been presented with a commemorative farewell gift after retiring as a founding director of Healthwatch South Tyneside.
Dr Srivastava joined the patient watchdog on its formation in 2013, sharing her vast knowledge and expertise of healthcare with fellow board members and staff over the past eight years.
Healthwatch is one of a number of directorships she has held since retiring as a consultant anaesthetist from the NHS in South Tyneside in 1998.
Other board positions have included North East Ambulance Service, Mortimer Community College, South Tyneside Citizens Advice Bureau, The Customs House Trust, Bliss=Ability and the Community Foundation Tyne and Wear and Northumberland.
Now aged 88, she has decided to step down from Healthwatch but will continue to empower and support BAME women in the borough. Shobha remains chair of Hindu Women's Association Hindu Nari Sangh, which she formed nearly 30 years ago, and also chairs Apna Ghar Minority Ethnic Women's Centre.
Over the years Dr Srivastava has helped secure funding for groups for a range of different projects including a healthy living centre for residents, research into service provision for domestic abuse victims and raising awareness of forced marriage and honour-based violence.
She is a big advocate for the borough and has volunteered her time to speak at a number of events to drive community cohesion forward. Earlier this year Shobha filmed a video urging women from ethnic minority groups to have the Covid vaccine.
Her long career included 15 years as a physiology teacher in her native India, before she moved to the UK in 1975 to join the NHS – working in Manchester, London and Aldershot before arriving to a warm welcome in South Shields in 1981.
The presentation of a commemorative glass plate from Healthwatch South Tyneside is the latest of many well deserved accolades.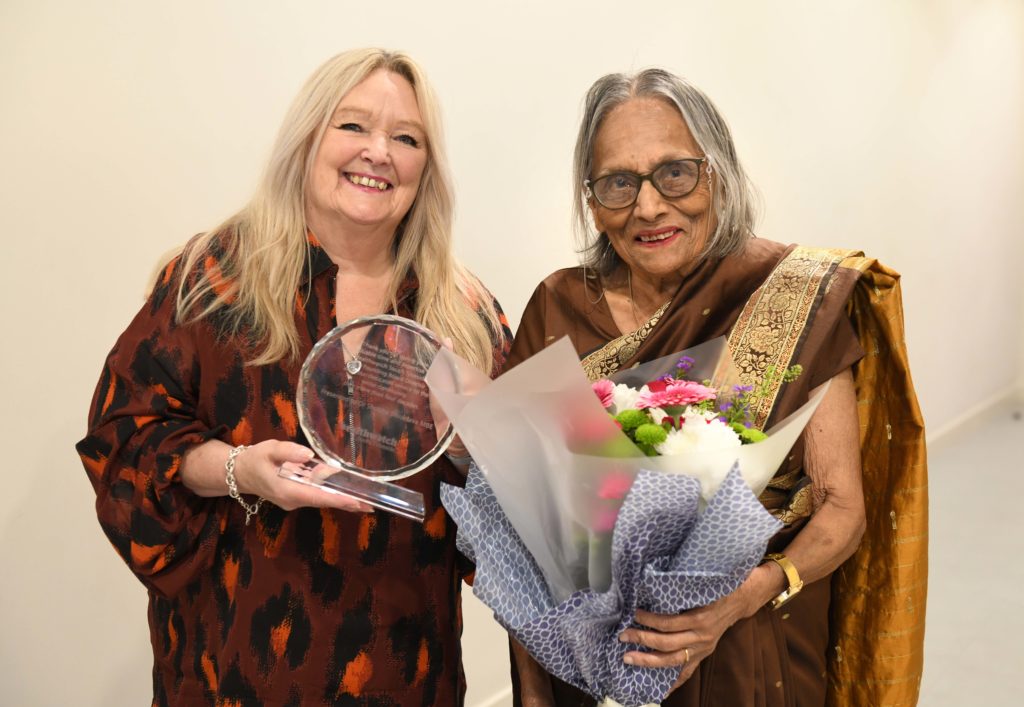 In June 2017 Shobha was awarded the MBE for voluntary service work in the field of community cohesion by HRH Prince Charles, and earlier this year she was made an honorary vice president of The Community Foundation Tyne and Wear and Northumberland.
The engraved plate reads: "Thank you for giving your valuable time and expertise to Healthwatch South Tyneside as a founding Board Director and your dedicated service to the wider community over more than four decades."
Healthwatch South Tyneside Chair Peter Bower said: "Shobha has played an invaluable role on the board since the formation of Healthwatch South Tyneside eight years ago, with vast experience and knowledge of healthcare over many decades.
"She is also a dedicated community champion with a genuine love for South Tyneside, which has been her home for 40 years now. We wish her well in her continued retirement and thank her for everything she has done for Healthwatch."
Dr Shobha Srivistava is presented with her retirement gifts by Healthwatch South Tyneside Manager Sheila Scott and pictured with members of the board and staff. Photos by Barry Pells.