More than 8,000 women across the UK could be living with undetected breast cancer as a result of missed mammograms due to Covid-19.
That is the estimate of charity Breast Cancer Now, based on almost one million cancelled screening appointments, and the resulting delays in diagnoses.
Breast cancer screening services were paused during the height of the pandemic to reduce the risk of the spread and to help free up emergency NHS resources.
With services resuming, the charity has expressed concern over the number of women caught up in the backlog. It is calling on NHS bodies across the UK and the Government to set out how they plan to tackle an anticipated rise in demand for imaging and diagnostics.
The worrying news coincides with the launch today of Breast Cancer Awareness Month, a worldwide annual campaign taking place throughout October involving thousands of organisations, to highlight the importance of breast awareness, education and research.
Breast cancer is the most common type of cancer in the UK. According to the NHS:
one in eight women are diagnosed with it during their lifetime, with a good chance of recovery if it is detected early on
one in five of these cases will be in women under the age of 50
around 350 men are diagnosed with breast cancer every year
the survival rate in the UK has also doubled in the past 40 years

.
Check your breasts regularly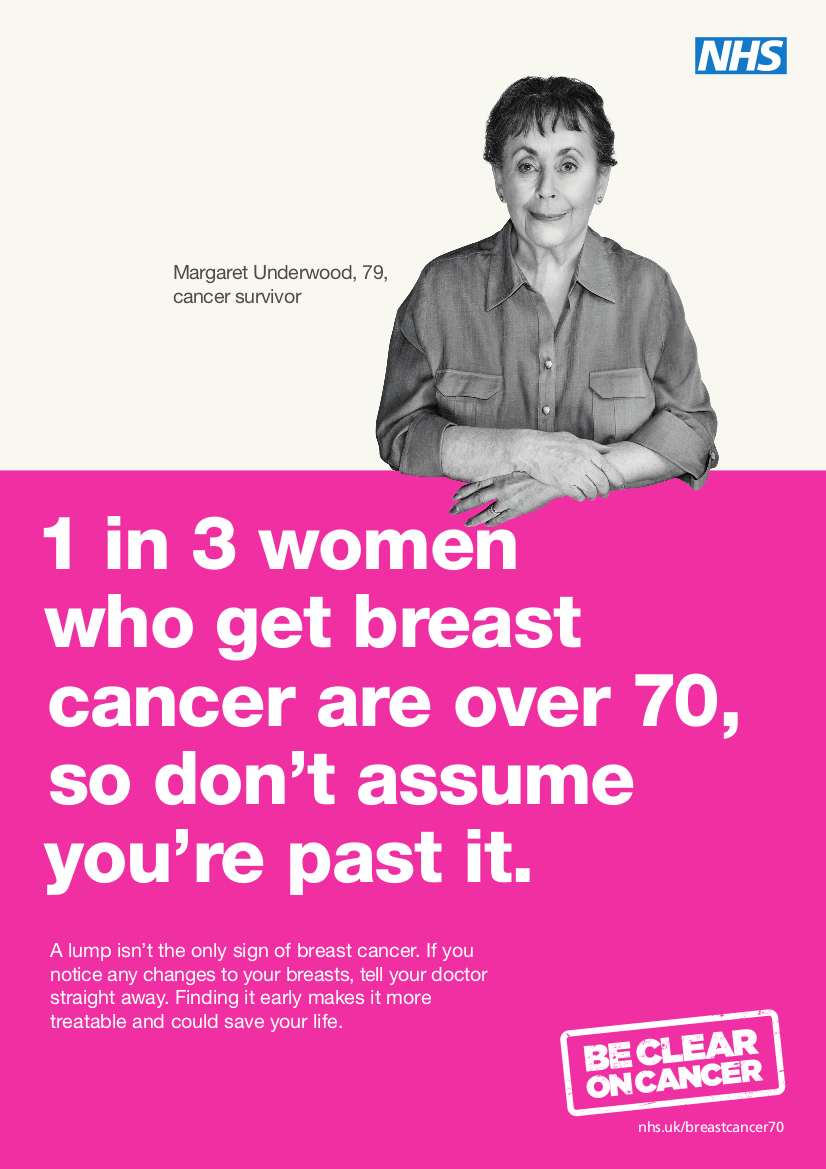 It's important to regularly check your breasts to look out for changes. Breast cancer can have a number of symptoms, but the first that is noticeable is usually a lump or area of thickened breast tissue. Most breast lumps aren't cancerous, but it's always best to have them checked by your doctor. You should also see your GP if you notice any of the following signs:
a change in the size or shape of one or both breasts
discharge from either of your nipples (which may be streaked with blood)
a lump or swelling in either of your armpits
dimpling on the skin of your breasts
a rash on or around your nipple
a change in the appearance of your nipple, such as becoming sunken into your breast.
If you're very tall or overweight, previously found a benign lump or have a history of breast cancer, you're also more likely to be at risk, so should often check for any changes.
Breast pain isn't usually a symptom of breast cancer but if you're concerned visit your GP. After examining your breasts, your GP may refer you to a specialist breast cancer clinic for further tests. These might include a mammogram (breast X-ray), ultrasound scan or biopsy (breast tissue sample).
Source: NHS Choices: https://www.nhs.uk/Conditions/Cancer-of-the-breast-female/Pages/Introduction.aspx
Support organisations
Breast Cancer Care
Breast Cancer Care provides breast cancer information and support across the UK.  They have specific support for partners and for younger women affected by breast cancer. They have a lot of information about mastectomy wear (including bras and swimming costumes) and also specialise in correctly fitting breast prostheses.
Helpline: 0808 800 6000
Text phone: 18001 0808 800 6000
Mon to Fri: 9.00 am to 4.00 pm; Sat: 9.00 am to 1.00 pm
Email: movingforward@breastcancercare.org.uk
Website: www.breastcancercare.org.uk
General Office
Phone: 0345 077 1893
Email: info@breastcancercare.org.uk
Chester House
1–3 Brixton Road
London SW9 6DE
Hereditary Breast Cancer Helpline
The Hereditary Breast Cancer Helpline provides support and information to anyone concerned about hereditary breast cancer.
Phone: 01629 813000 (helpline 8.00am-10.00pm)
Email: canhelp@btopenworld.com
Website: www.breastcancergenetics.co.uk
The Haven Breast Cancer Support Centres
Breast Cancer Haven offers free support, information, counselling and complementary therapies to anyone affected by breast cancer. They have drop in centres in London, Hereford, Yorkshire, Wessex, Worcester, West Midlands and Cheltenham. They also offer a programme of care designed to help women with breast cancer feel better and develop a healthier lifestyle. For people who can't get to a Haven centre, they offer the "Haven at Home" multi-media package.
Website: www.thehaven.org.uk
Macmillan Cancer Support
Macmillan Cancer Support provides practical, medical and financial support. They provide booklets on cancer and treatments, run helplines providing cancer information and benefits advice, and offer Cancer Voices service, enabling those affected by cancer to share their experiences and help shape future cancer services.
Macmillan CancerLine: 0808 808 0000
Textphone: 18001 0808 808 00 00
Mon to Fri: 9.00 am to 8.00 pm; information available in other languages
Email: contactus@macmillan.org.uk
Website: www.macmillan.org.uk
The Daisy Network
The Daisy Network provides help, support and information for women who have had an early menopause.
PO Box 71432, London SW6 9HJ
Email: info@daisynetwork.org.uk
Website: www.daisynetwork.org.uk
Cancer Research UK
CRUK provides general information and advice on cancer, and funds research into the disease.
Phone: 0300 123 1022
email: supporter.services@cancer.org.uk
Website: https://www.cancerresearchuk.org
Breast Cancer Now
Breast Cancer Now is the UK's largest breast cancer research charity. Its website provides general information and advice on breast cancer.
Website: https://breastcancernow.org/
Information on mammography screening
For information about mammography screening please see the following websites:
Public Health England (2013). NHS breast screening helping you decide. https://www.uhs.nhs.uk/Media/SUHTInternet/Services/BreastImagingUnit/NHS-Breast-Screening—helping-you-decide.pdf
The Independent UK Panel on Breast Cancer (2012). The Benefits and Harms of Breast Cancer Screening: An Independent Review. https://www.cancerresearchuk.org/sites/default/files/ibsr-fullreport.pdf
World Health Organisation (2014). WHO position paper on mammography screening. https://apps.who.int/iris/bitstream/10665/137339/1/9789241507936_eng.pdf?ua=1&ua=1
Løberg, M. et al. (2015). Benefits and harms of mammography screening. Breast Cancer Research 17: 63. https://www.ncbi.nlm.nih.gov/pmc/articles/PMC4415291/pdf/13058_2015_Article_525.pdf
Jacklyn, G. et al. (2016). Meta-analysis of breast cancer mortality benefit and overdiagnosis adjusted for adherence: improving information on the effects of attending screening mammography. British Journal of Cancer 114, 1269–1276. https://www.ncbi.nlm.nih.gov/pubmed/27124337